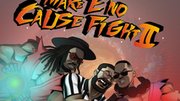 Production is more daring, bars are heavier and risks got taken. More importantly, everything worked out.
It's 12:12 am in the morning. This writer had just returned from Reminisce's Trace Live! and a second Uber driver had just declined a card trip. An unintentional click on his laptop showed that a video got uploaded 12 minutes prior.
The video is for 'Ronaldo,' the single by Falz, Ajebutter22 and BOJ. The opening was promising, but not as catchy. But like every great song, it is defined by a climactic hook – a combination of atypical BOJ madness, piano staccato and well-used bass legato. From there, it was a musical 'UP NEPA!'
Then, it dawned on this writer that a project eagerly anticipated was finally here. It is the unlikely, yet unsurprising collaborative project, Make E No Cause Fight 2 EP by Falz, Ajebutter22 and BOJ. Oh, an Uberdriver finally accepted a card trip – the journey begins. This writer mailed one of his OGs a song from the EP.
His response was simple, "When I call you next, we will discuss why Falz, Ajebutter and BOJ is a project sent from the heavens." He was right. From the outside looking in, Ajebutter, Falz and BOJ always had an interwoven path. First, they sort of came into musical consciousness around the same time.
BOJ was the cool, braided, avant-garde member of DRB Lasgidi – a shift from DRB. Ajebutter and Falz were professionals who could rap. All three of them studied in the UK, but Ajebutter22 and Falz always had complicated heat from people. In the early days, they were produced by the same person – Studio Magik. They also dropped their debut albums around the same time.
Then, despite the marked difference in style, vocal texture and stylistic delivery, people understandably compared their styles. They both make music with a very Nigerian essence – language, enunciation, idiosyncrasy, symbolism and hilarious, yet brilliant bars. But then, Falz was more ferociously glossy with tough act to follow.
On his own, Ajebutter makes the hardest things seem like eating meishayi noodles. They might be cut off the same cloth, but Falz and Ajebutter are worlds apart. As time changed, both rappers began to collaborate to incredible excellence – the chemistry became evident. In their solo careers, they had some sounds that could only be used by Falz and Ajebutter22.
But there was another guy who could also croon on that vibe, BOJ. After his madness on Show Dem Camp's 'Feel Alright,' the mainstream took notice. Then, alongside Ajebutter, they carved sticky asylum out of Naeto C's 'What You Want.' The final one minute of that song was not just multiple sonic orgasms, the melodious humming probably made Kid Cudi jealous.
By that time, Falz had made strides. Ajebutter had a 9-5 in tech and BOJ was making wonderful music. Then came 2017, Ajebutter and BOJ finally decided to crown that 'What We Want' moment with an EP. It was titled, Make E No Cause Fight. Well, contrary to their intention, it actually caused blood wars in which the weapons of war were guitar-guns a la Antonio Banderas'Desperado.'
The project was a madness, but it was too short. That same year, Falz dropped, 27, his third project in three years. But before then, Falz and Ajebutter had released the cultural moment, 'Bad Gang.' By 2018, Falz had carved his anglo-Yoruba niche or crisp rap with an organic hue and dynamic rules of engagement.
Ajebutter was another ruler of his own kingdom. In it, he delivered anglo-Yoruba rap with a unique style that is parts sung-rap and parts intentional savagery of calmness. For his part, BOJ became a walking manifestation of 'midas touch.'
With the unspoken, yet apparent synergy and existent relationship between the parties, this project was always of theoretical excellence that only God could oblige. Well, God finally gave them the initiative to record it and my people, it is the most beautiful thing since that maiden teenage kiss.
'Too Many Women' is the vibe-y, yet inimical gbef project opener – the first diary entry to be unleashed. It is also the cries of a typical millennial man suddenly caught in the insidious riptide of beautiful women. He now finds it hard to get stable relationships – even with women he obviously likes. Falzand Ajebutter22 are anti-heroes of this one-sided story.
They have messed things up, but in it all, they want to be victims – they are victims. Oh, and that's Tems in the background.
'Ronaldo' starts like offerings from a closed eatery, but it also takes the form of a bland burger filled and lined with witty lines and bars of heavy football anecdotes. It is also a social allegory about unfaithful men that uses football symbolisms to underline seriousness. Hip-hop heads might call them, 'corny,' but these guys make toxic masculinity attractive – you love to see it.
Sorry, what is the madness of this 'Rock Your Body'? Willis (the producer), you deserve a bottle of beer. The beat opens up with a typical melody for Spanish bullfighting. On it, Falz and Ajebutter effortlessly ride with Yoruba, Pidgin and English to tell a story of admiration, lust and 'Yoruba demonry' filled with high-brow 'wash.'
Ajebutter raps, "Between her legs is rainy season, your girl always look like harmattan. What a big man wants, a big man gets…" His verse went crazy. The brilliance of this verse underlines why Ajebutter is properly rated and underrated in different circles. He raps so effortlessly, people think he's nonchalant. His raps are unique, yet people want him to sound like an American rapper.
Bamiman' is a literal spelling of how 'Birmingham' is pronounced. It also underlines the raw ability of this group to find excellence in the most random things. When people resonate with their laidback brand of creative freedom, they will take note. The song is a tale of philandering women and heartbreak through the eyes of Nigerian men who fell in British love.
The storytelling is also beautiful. Ajebutter's verse is so painful, yet hilarious when you hear, "Pump am like flat tire…" Falz's cadences went mad as he got caught in the wrong position. BOJ then justifies being put on that level of melody.
'Faaji' is the first time Falz has gotten outclass by another rapper on a song since 2017. The rapper who outclassed him is Reminisce. It also feels like a revenge – Falz smoked Reminisce on 'Ain't Got No Time (Remix)' by Pepenazi. Falz and Reminisce have worked together since then, but this level ferocity hasn't always been felt.
The beat is built on 2000's-Nigeria pop drum arrangement and guitars suited to latin pop. Did anybody notice the bar overkill on this song?
This entire project is like intentional precious melange born of freewheeling creativity in style of sound, language of communication, style of delivery and messaging. With regular everyday totems and pop culture/Nigerian peculiarities, they created the most beautiful lines, verses and hooks. BOJ literally created the hook on 'Faaji' offthe most random things.
The detailing on this EP also represents creatives in their element playing 'point and kill' with anything they find sonically pleasing. This freewheeling creativity also shines in the selected producers and even the mixers. Did anybody notices what happens from 2:48 on 'Faaji'?
The mixer basically interpolated four people into the best creative moment on the EP – detail. Falz, But then, BOJ and Ajebuttercreated this project with more commercial sway than the first Make E Nor Cause Fight – not a bad thing at all.
While it is hard to call, the conversation shouldn't be about which Make E Nor Cause Fight is better. It should be about how three brilliant creatives not bound by a label came together to create a project – a rare occurrence in Nigerian music. Most people will want more than five tracks, but it's better to have five excellent tracks than 10 tracks of questionable quality.
When the project was three tracks into a second listen, the Uber had reached its destination. He got into his apartment wondering how beautiful the EP is. Production is more daring, bars are heavier and risks got taken. More importantly, everything worked out.